Luxury Vinyl Flooring in West Chester, OH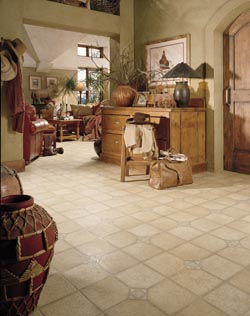 When you're in the market for a luxurious, yet affordable flooring material, you don't have to settle for less. Discover flooring with a wood- or stone-tile look at Buddy's Flooring America, your first source for luxury vinyl flooring in West Chester, OH. Our local flooring showroom offers a striking selection of luxury vinyl products that are perfect for use in any room of your home, as well as other flooring options.
We provide you with a bounty of the best brand names in luxury vinyl, as well as arrange professional installation services on your behalf. Request a free quote to find out how we can help you remodel your kitchen or office with LVT flooring.


Manufactured for Beauty & Performance
Vinyl flooring is manufactured with beauty and durability in mind. Made of multiple layers, this flooring option provides maximum performance. The clear top layer guards against scratches and scuffs, as well as rips and tears. The design layer is printed with realistic visuals that give the authentic appearance of porcelain, ceramic, or stone tile; or hardwood plank. A backing layer provides strength and stability.
This layered construction gives luxury vinyl a look that imitates nature and the toughness to withstand heavy foot traffic. Visit our gorgeous showroom to choose resilient flooring in the style that matches your décor.
Vinyl flooring allows you to decorate in grand style without paying high prices. Since we carry both luxury plank and luxury tile flooring, you can have the look of high-end flooring at a cost you can afford. Decorate your whole house in different styles of vinyl flooring. How about choosing luxury vinyl tile for the foyer and vinyl plank for the living room? With the discount prices at our flooring store, you can have it all.


Protect Your Investment
Protect the investment you have made in your flooring with professional installation. Our seasoned vinyl installation partners know exactly what to do to make your vinyl tile look lovely and last for a long time. Before they begin the process, they take time to ensure they're working with a clean and level surface. Then, they place each piece with precision and ensure they lay flat and adhere properly.
The process they employ is designed to result in a handsome finished product you and your family can enjoy for years to come. Reach out today to find out more about this process and learn why it's so essential to your satisfaction.



Contact our team today to learn more about luxury vinyl flooring and its benefits. We proudly serve residents of West Chester, Ohio, along with those in Mason, Liberty Township, Maineville, and Monroe.